The flightless angry birds and the scheming green piggies take their beef to the next level in THE ANGRY BIRDS MOVIE 2!  When a new threat emerges that puts both Bird and Pig Island in danger, Zeta (Leslie Jones), the leader of Eagle Island, Red (Jason Sudeikis), Chuck (Josh Gad), Bomb (Danny McBride), and Mighty Eagle (Peter Dinklage) recruit Chuck's sister Silver (Rachel Bloom) and team up with pigs Leonard (Bill Hader), his assistant Courtney (Awkwafina), and techpig Garry (Sterling K. Brown) to forge an unsteady truce and form an unlikely superteam to save their homes.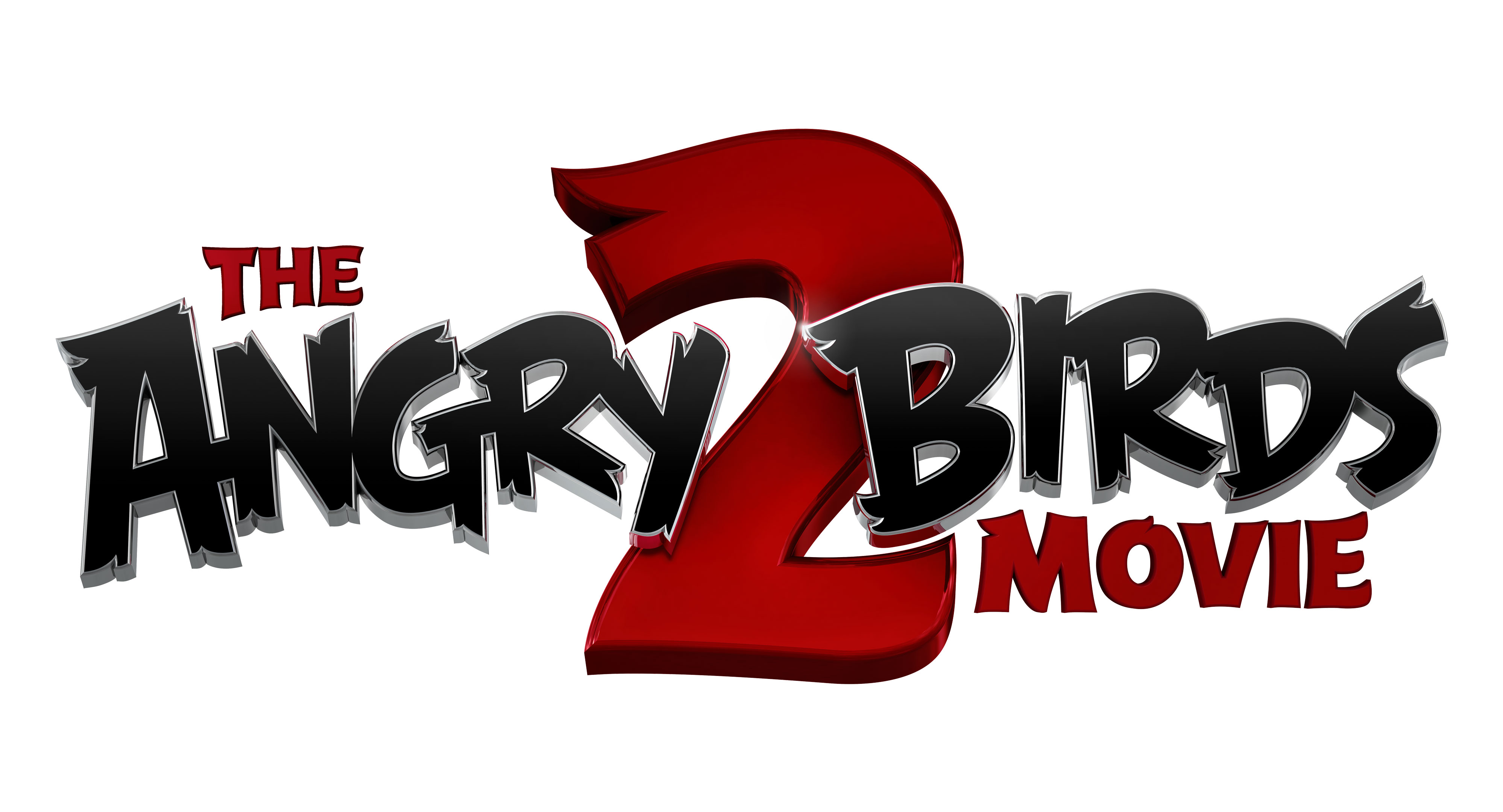 ANIMATION
As this film is a sequel, most of the rules used to govern the animation of the main characters had already been established. Previously characters like Red, Bomb, and Chuck had been thoroughly explored in order to find the best way of achieving the look that the filmmakers wanted.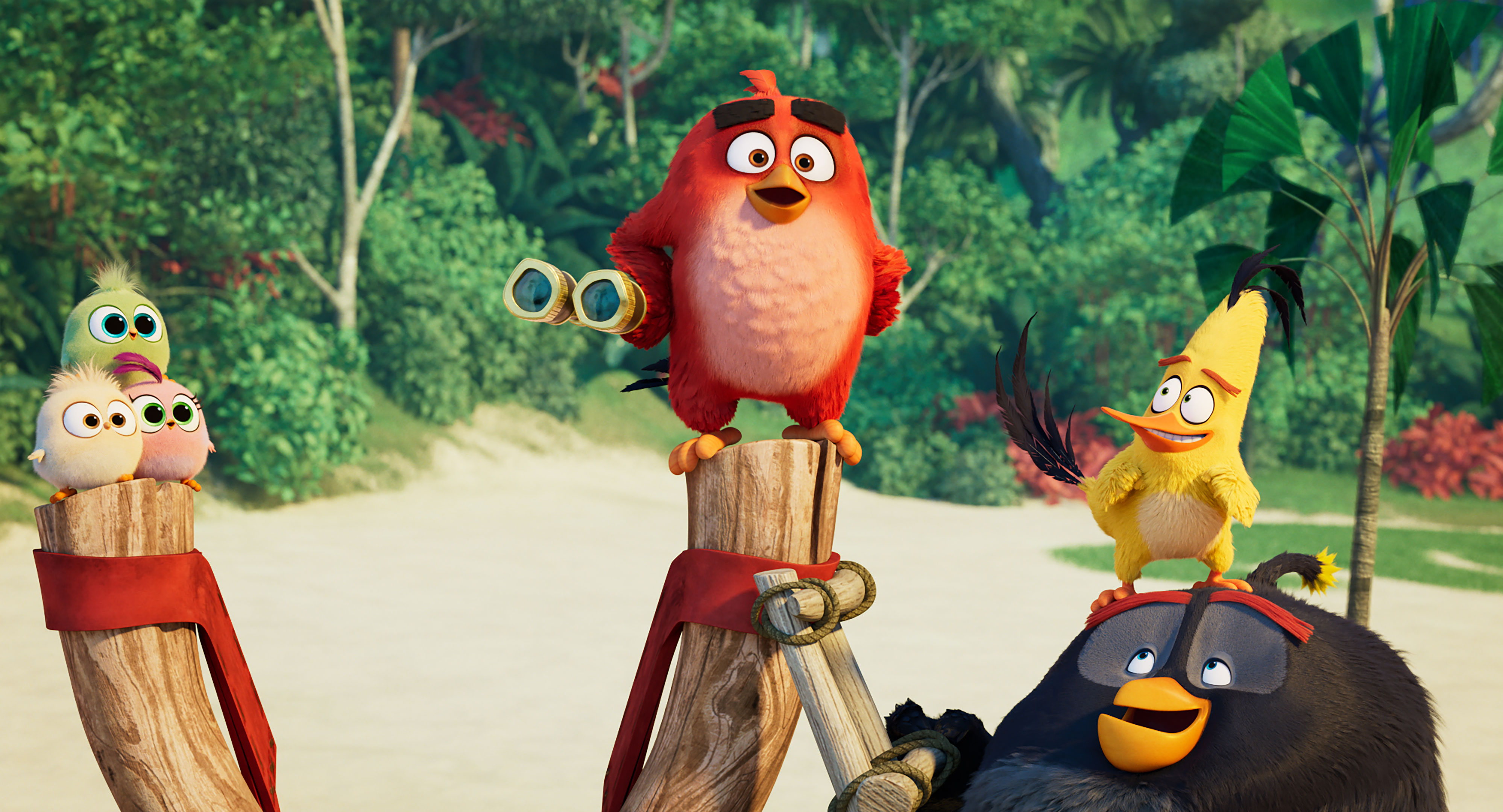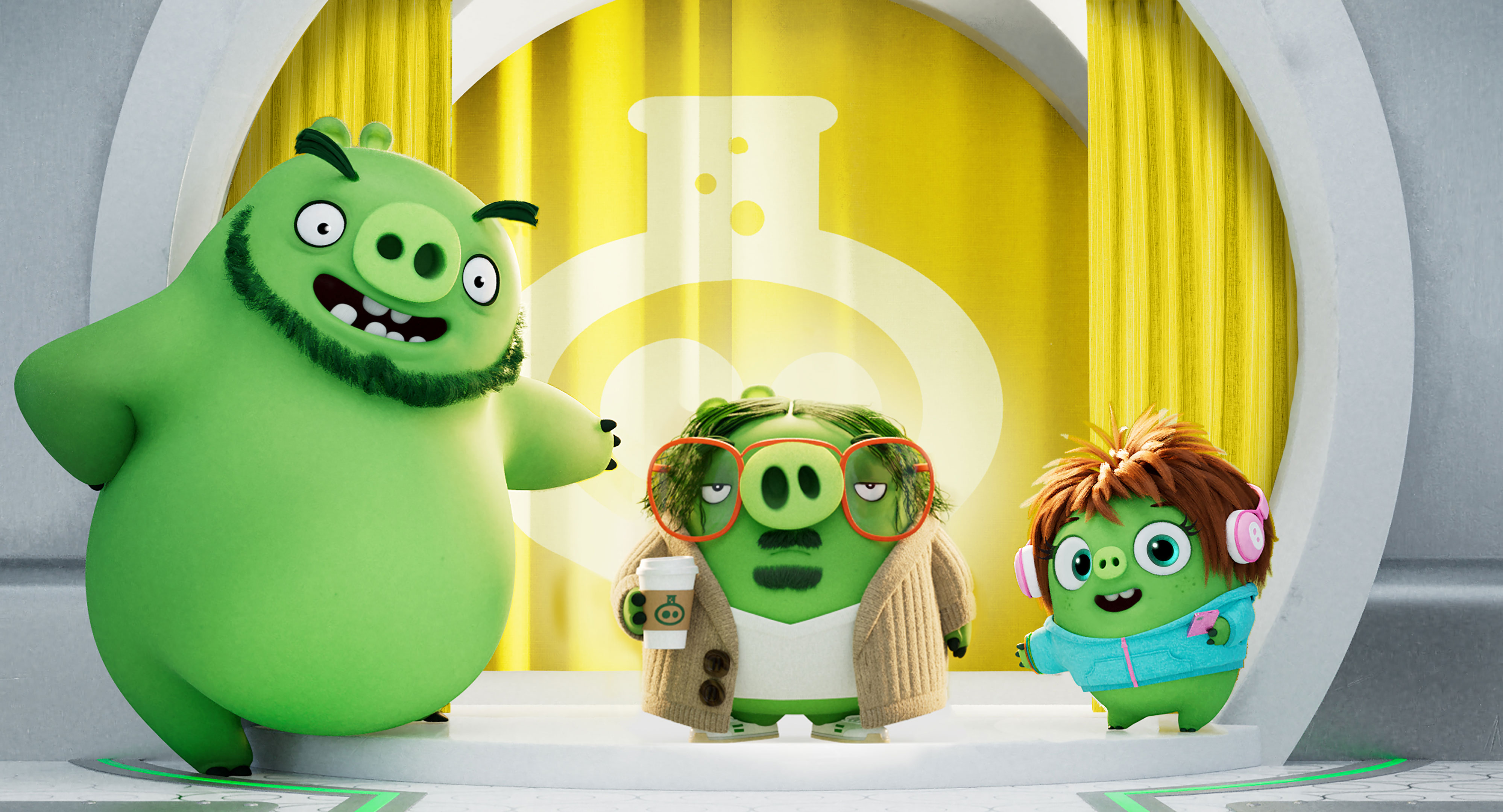 The new directors, Thurop Van Orman and John Rice had a very specific vision for the sequel -- comedy! They spent a lot of time working out gags in the storyboard phase of production, so our animation team was tasked with following the boards closely and making the jokes as funny as they could be. Laughter was the benchmark of our success!
The primary gauge of success for the filmmakers was laughs: Is this funnier than the last version tried?

- Stirling Duguid, VFX Supervisor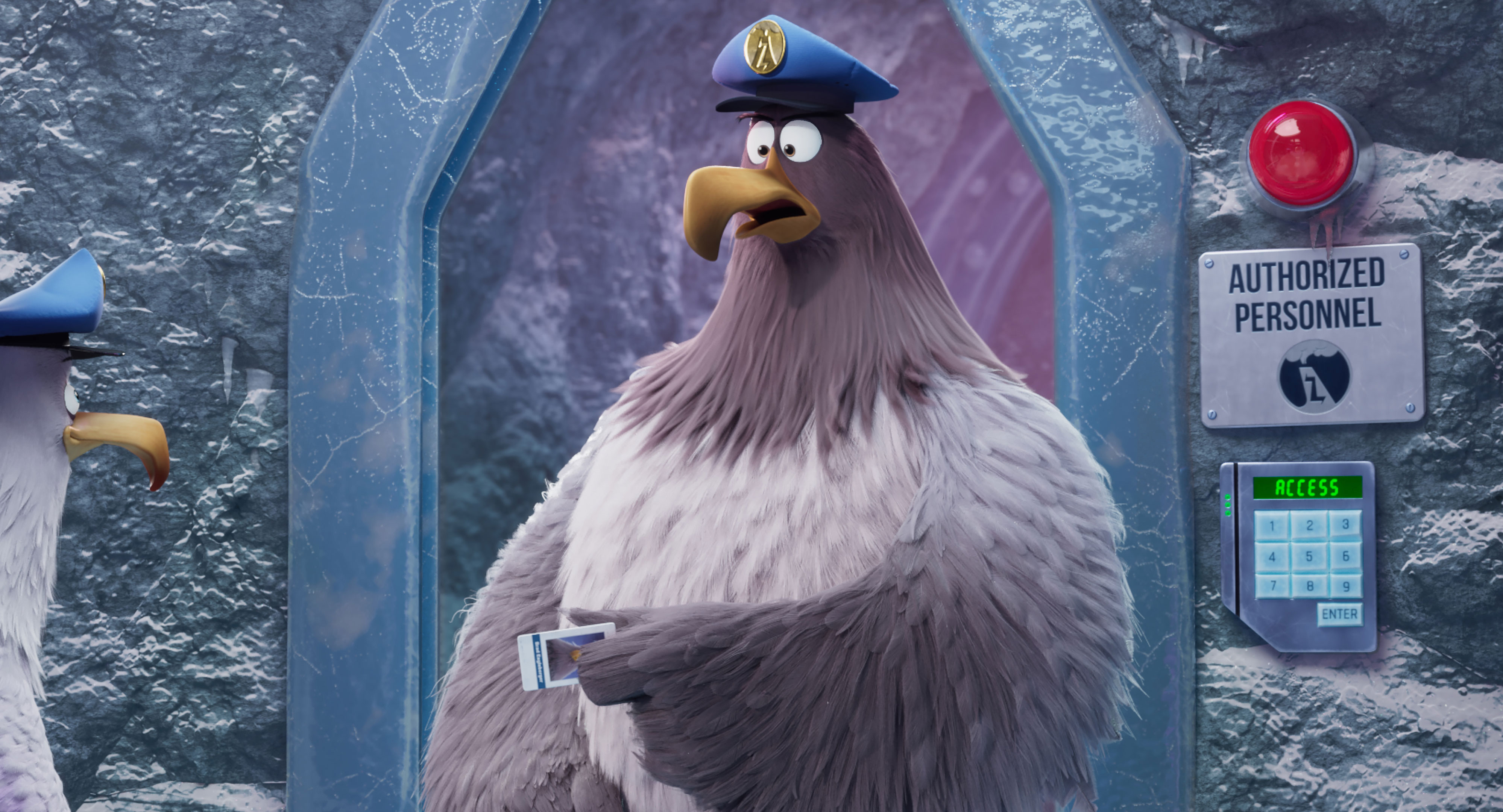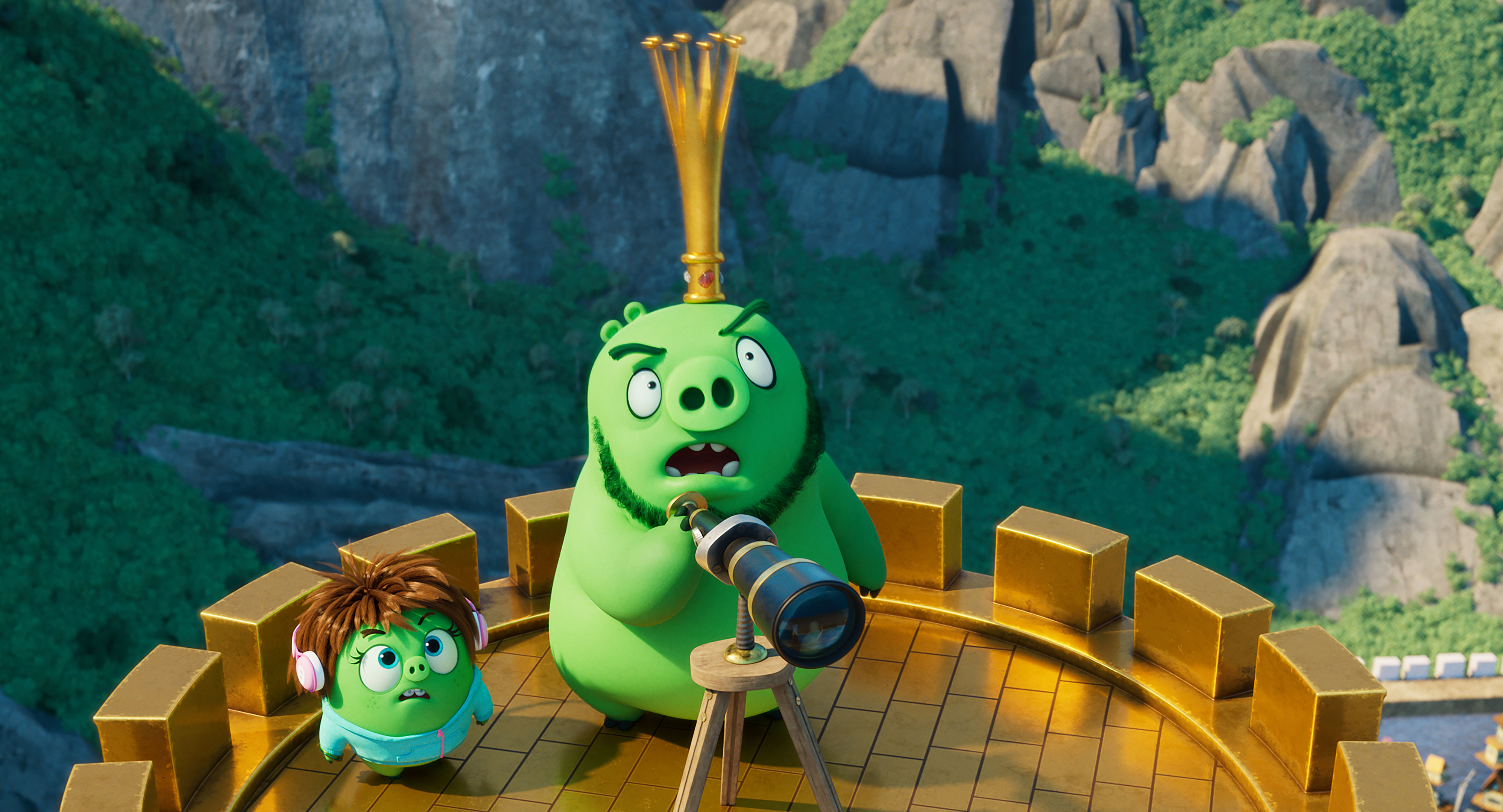 ZETA
Zeta is the villainess for the new installment. She leads a motley crew of eagle guards and engineers who all live on the freezing cold Eagle Island. She's tired of living in the icy wasteland and desires to take over the tropical islands of the birds and pigs for herself.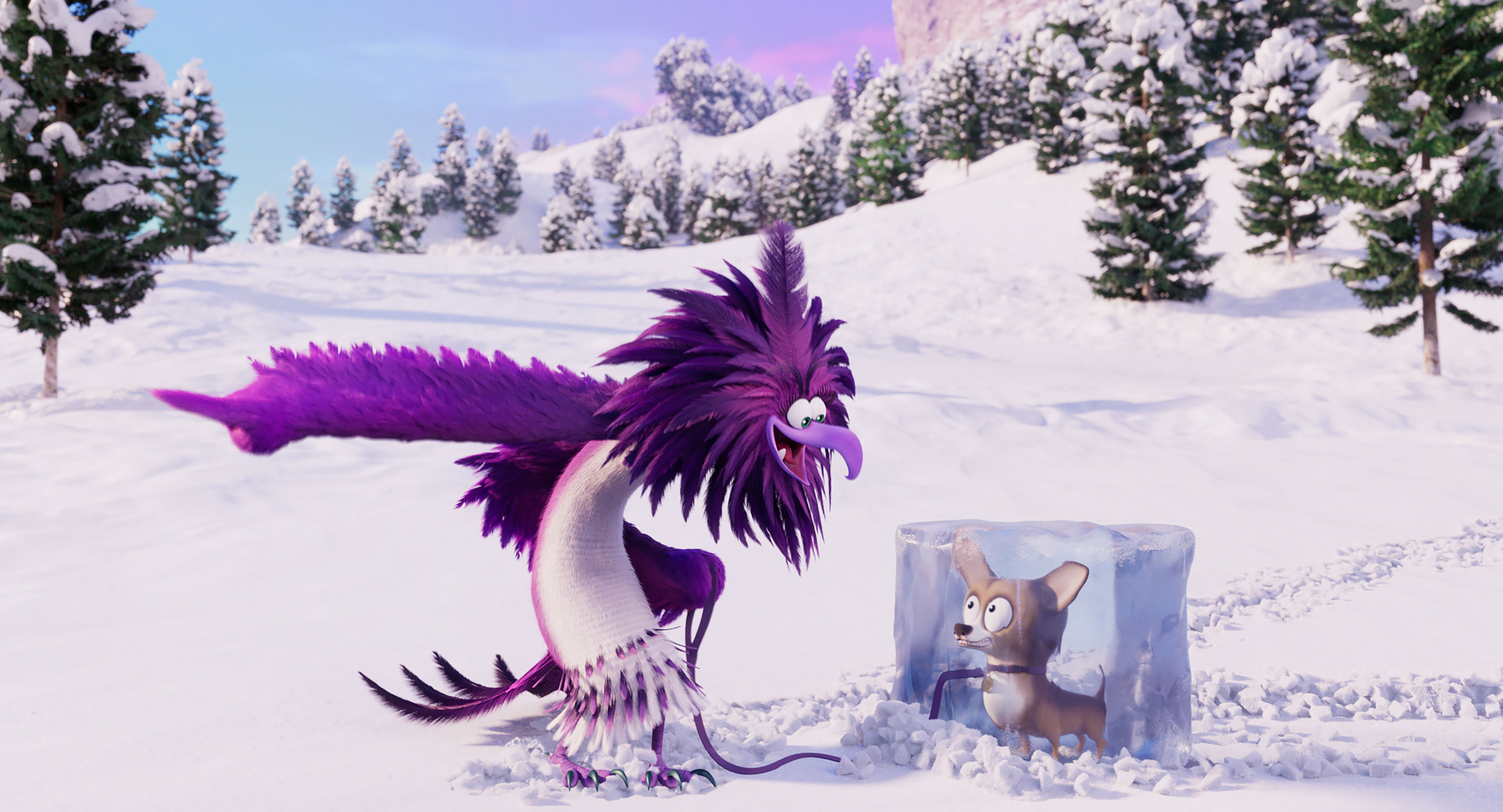 Zeta is voiced by Leslie Jones, most notably from Saturday Night Live. 
As her design is very exaggerated and cartoony, the initial animation tests were also pushed quite far in this direction. The feedback from the directors was that they wanted a more subtle, nuanced performance. Their reasoning was that since she's already such a cartoony design, that cartoony motion on top of that really felt like too much. Additionally, they wanted the audience to take her seriously so that she would be a more formidable villainess.
Achieving this subtly meant relying more on filmed reference and pushing the poses and timing less. The animators were able to start with the video footage of Leslie Jones during the recording sessions and augment this with their own filmed animator reference. Once her character was found, the animators were let loose to explore various performances under these guidelines.
A couple of facts about Zeta: Her animation rig has around 2,108 controls combined between her face and her body. This is about double the average for the other characters in the film. Additionally, she has 8.4 million hairs and 728 feathers.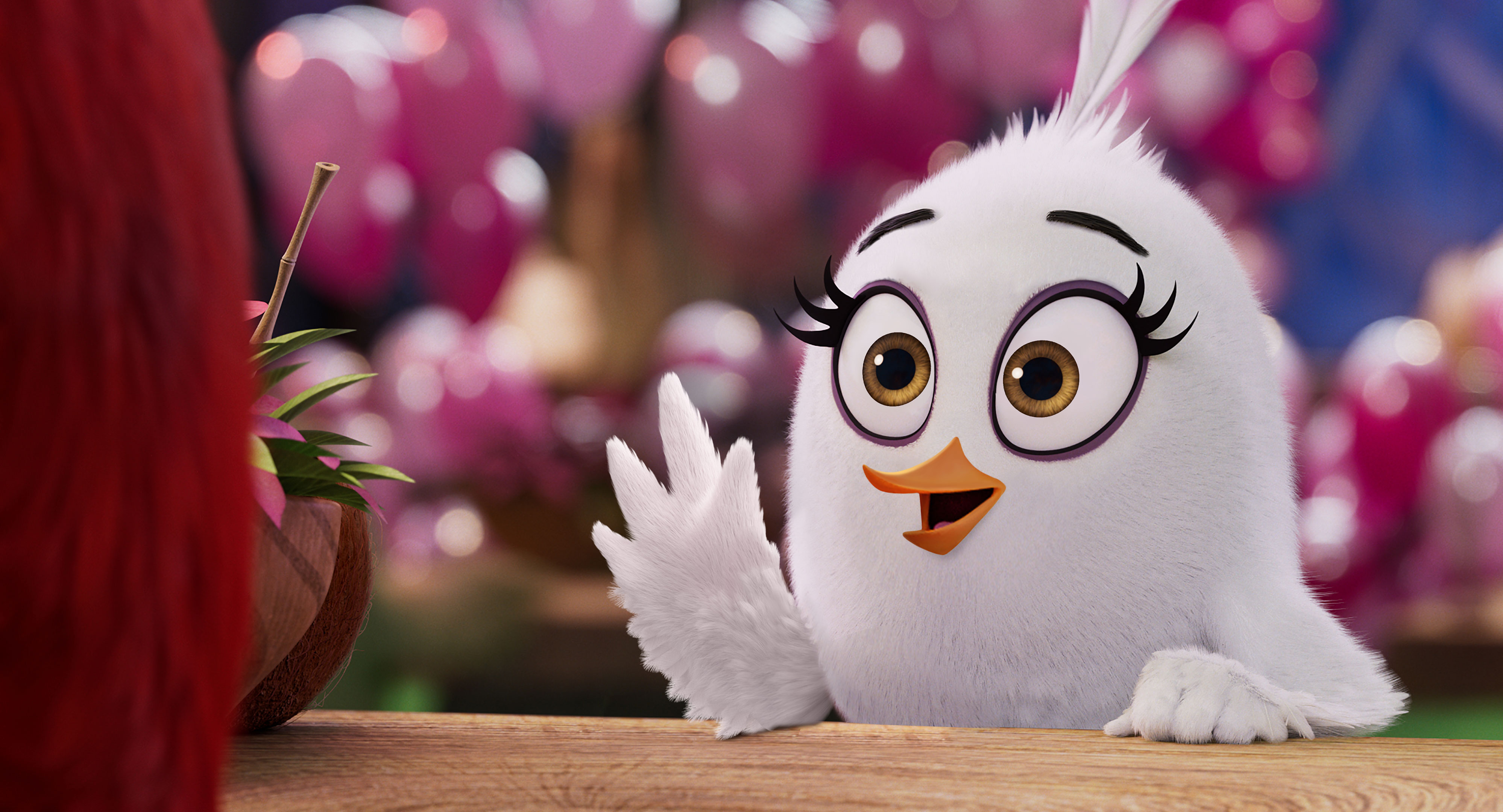 In order to make Zeta an appealing character, beyond just being branded the villain, we needed to make her wholeheartedly believe that what she was doing was for the greater good. We made her acting naturalistic which also was a nice offset to her pushed, muppet-like design. We avoided making her feel sinister but instead passionate and full of conviction.

- Pete Nash, Animation Supervisor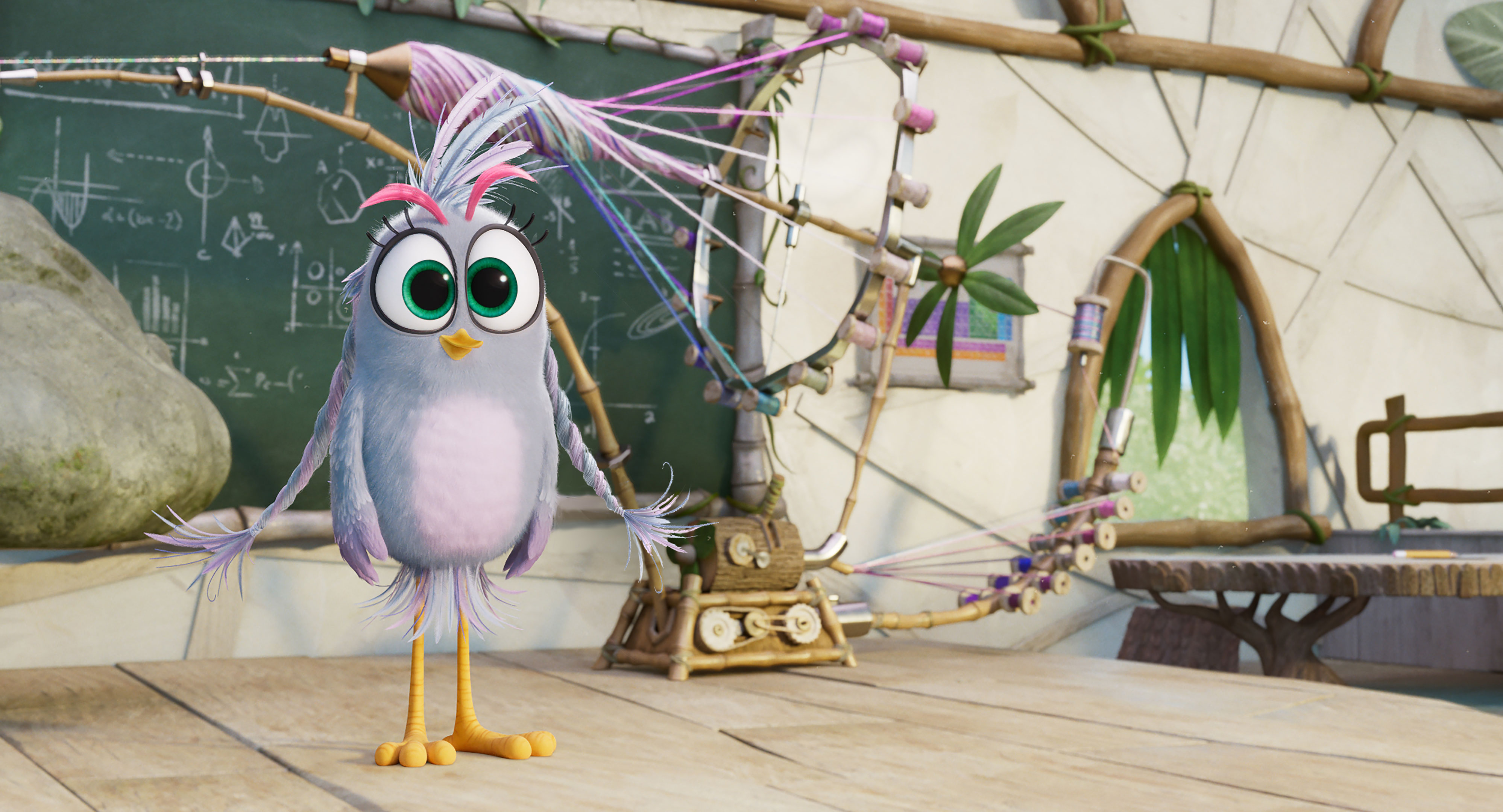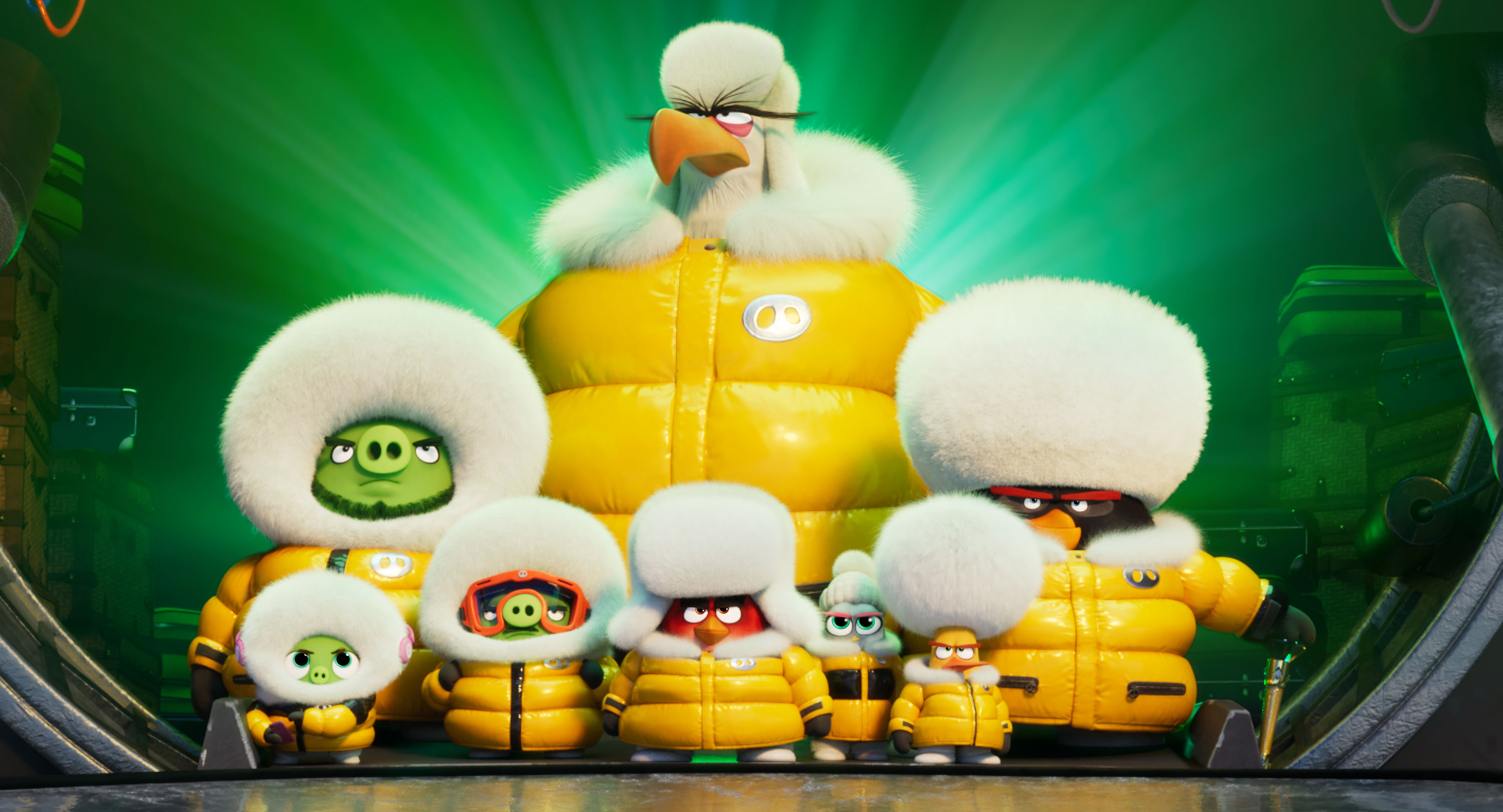 90's FLASHBACK
At one point in the film there is a sweet 90's flashback scene where Mighty Eagle is recounting his relationship with Zeta while in High School. Each couple of shots is a different time period of their years together and we travel from a skater look, to goth, grunge, hip hop, and finally to their wedding. These costumes and hairstyles were a lot of fun to design and implement, but also a lot of work considering they were in so few shots each. Thurop, the director, was particularly fond of Mighty Eagle's skater hair as his cut in high school was the inspiration.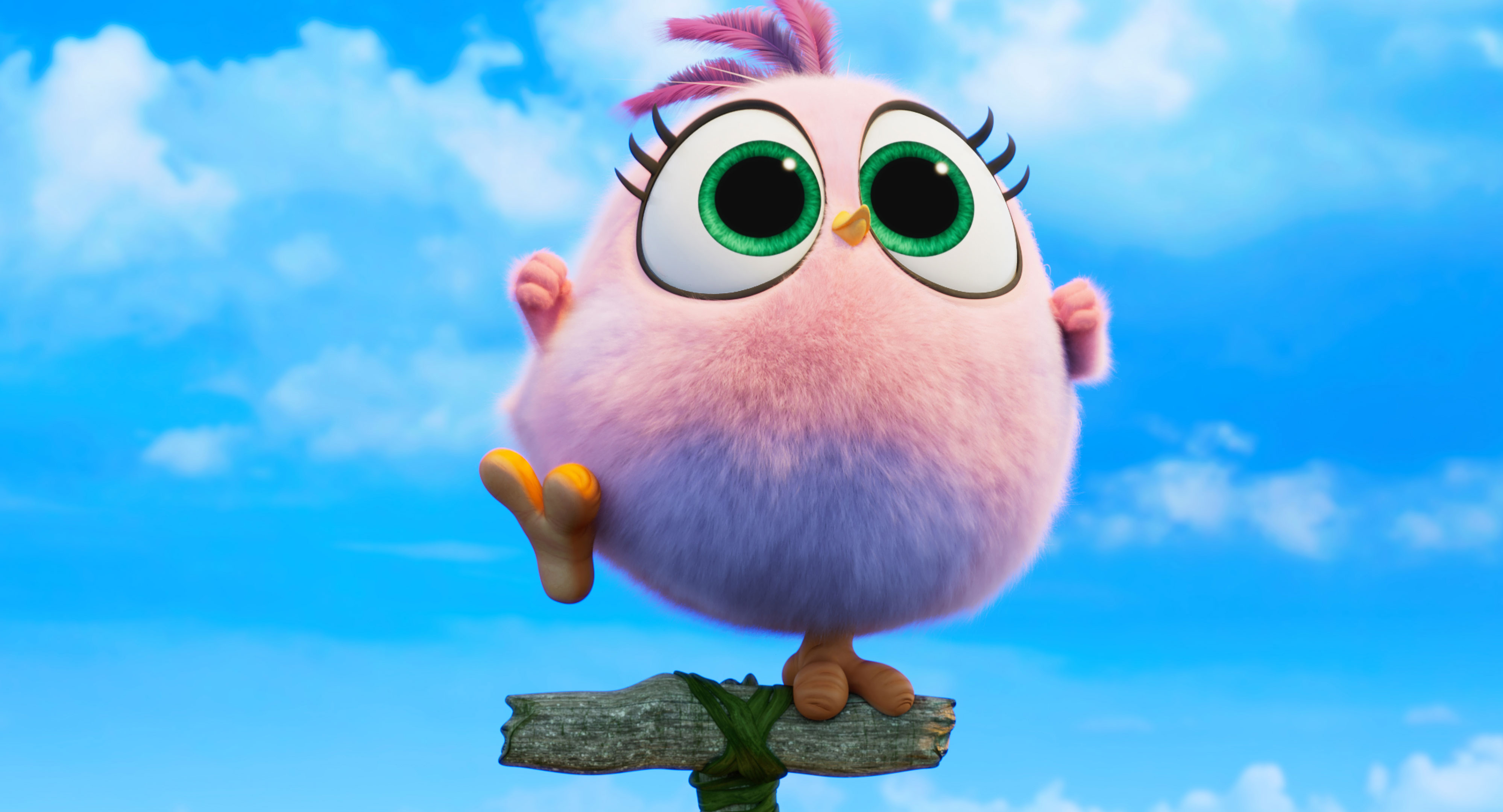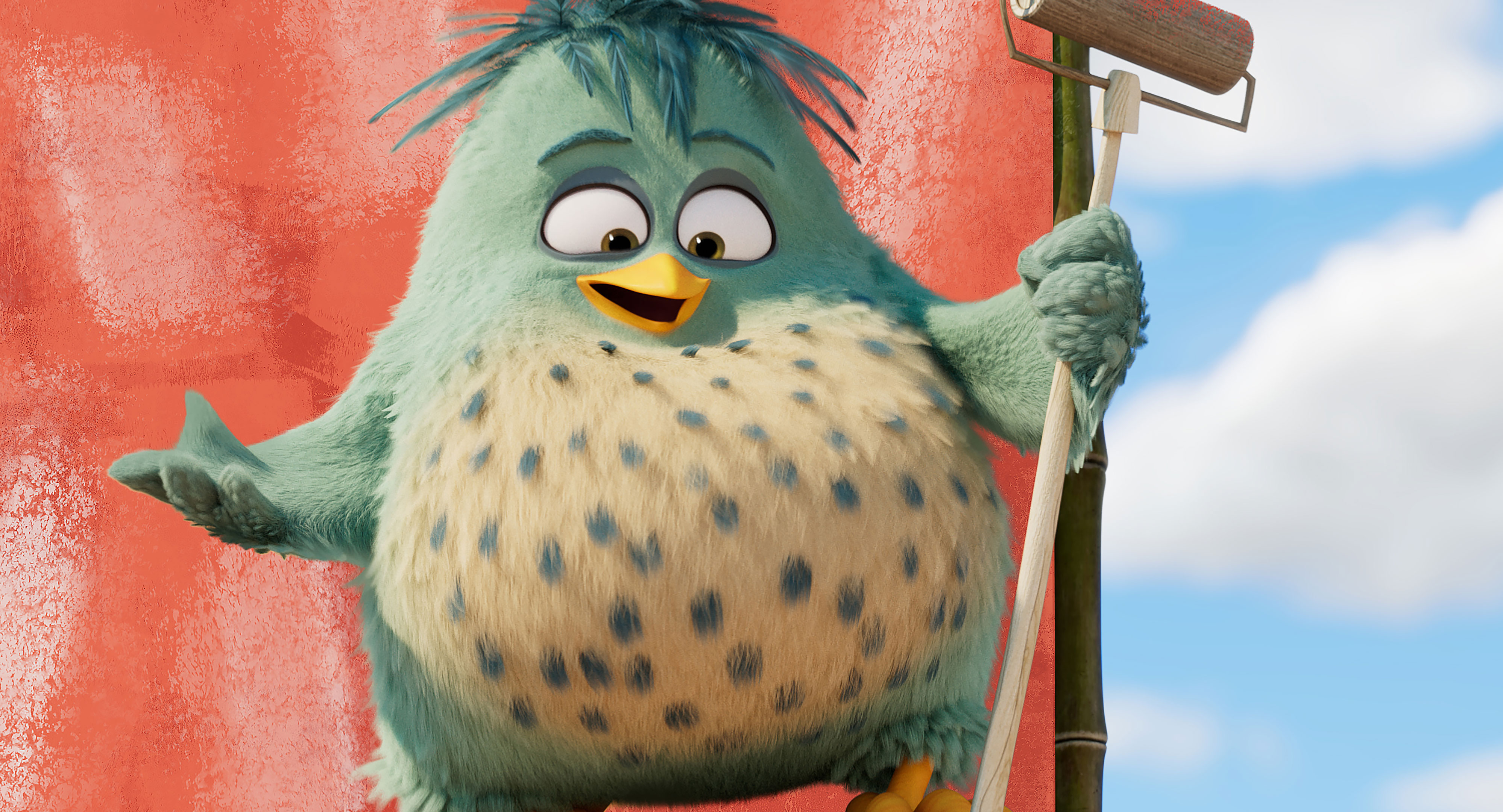 DESIGNING ZETA'S LAIR
Zeta's lair was one of the first new environments we tackled for Angry Birds 2. In the initial concept artwork her lair was illustrated with neon lights and dark lava rock walls as it is deep inside a volcano. However, the filmmakers found it too dark and gloomy and wanted to convey a more bright and friendly environment. We tried various material changes and lighting techniques, including removing portions of the roof to give it a skylight feeling, but none of the attempts were satisfactory. Eventually, we suggested making the walls luminous snow as opposed to dark rock. This had the dual benefit of addressing their brightness concerns, as well as adding to the feeling of the cold. These changes resulted in a bright, tropical penthouse for our eccentric villainess.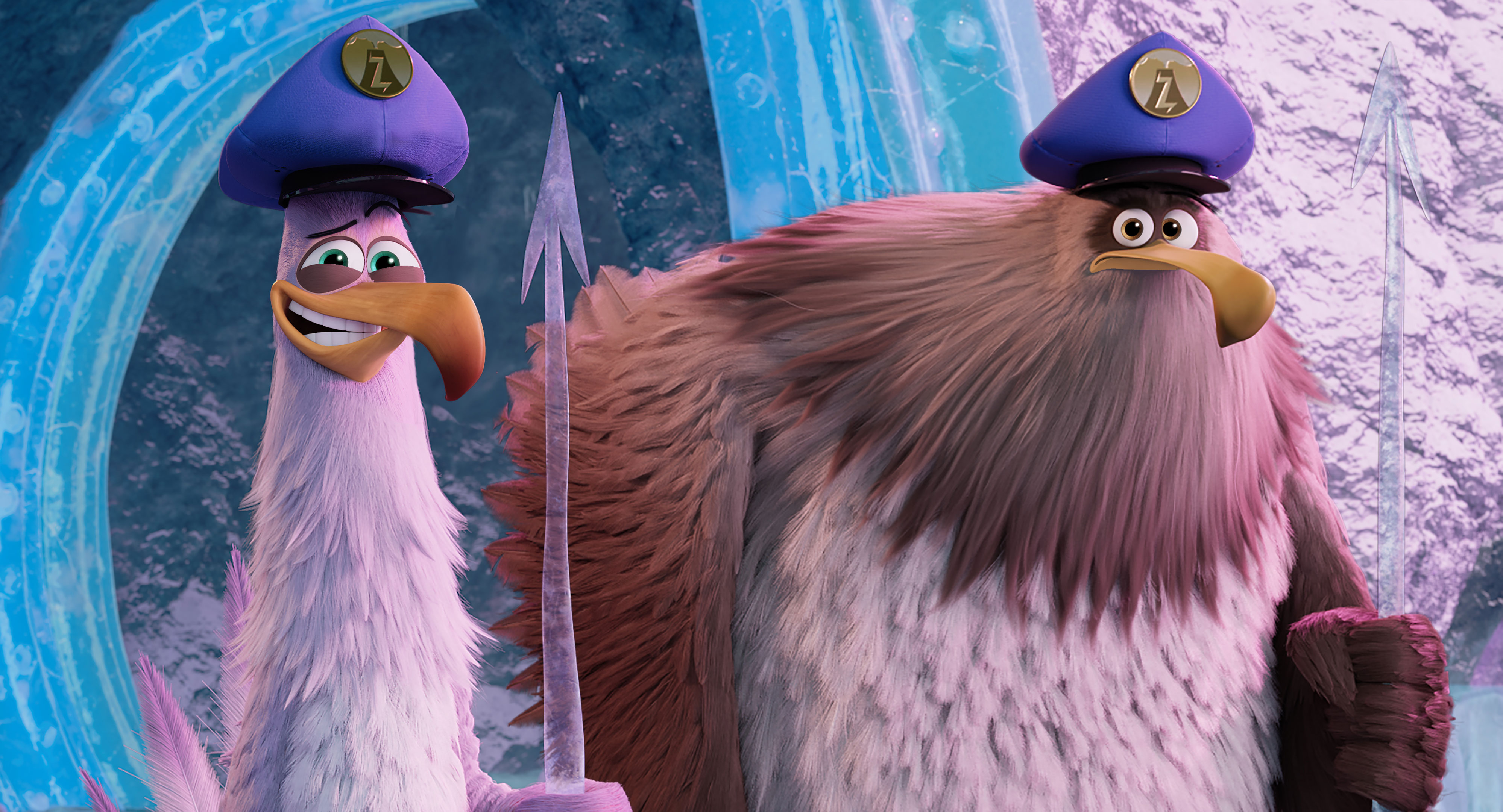 FX
There were a large number of types of FX needed for The Angry Birds 2. These included many water shots (oceans, lakes, hot tub, beach break, underwater scenes, and a tsunami); sand interaction, snow interaction, and pig snot interaction; crashing ice balls, fiery explosions and destruction; planets and asteroids in outer-space; fiery lava, liquid lava and lava lamp lava; snow, ice and thousands of crabs!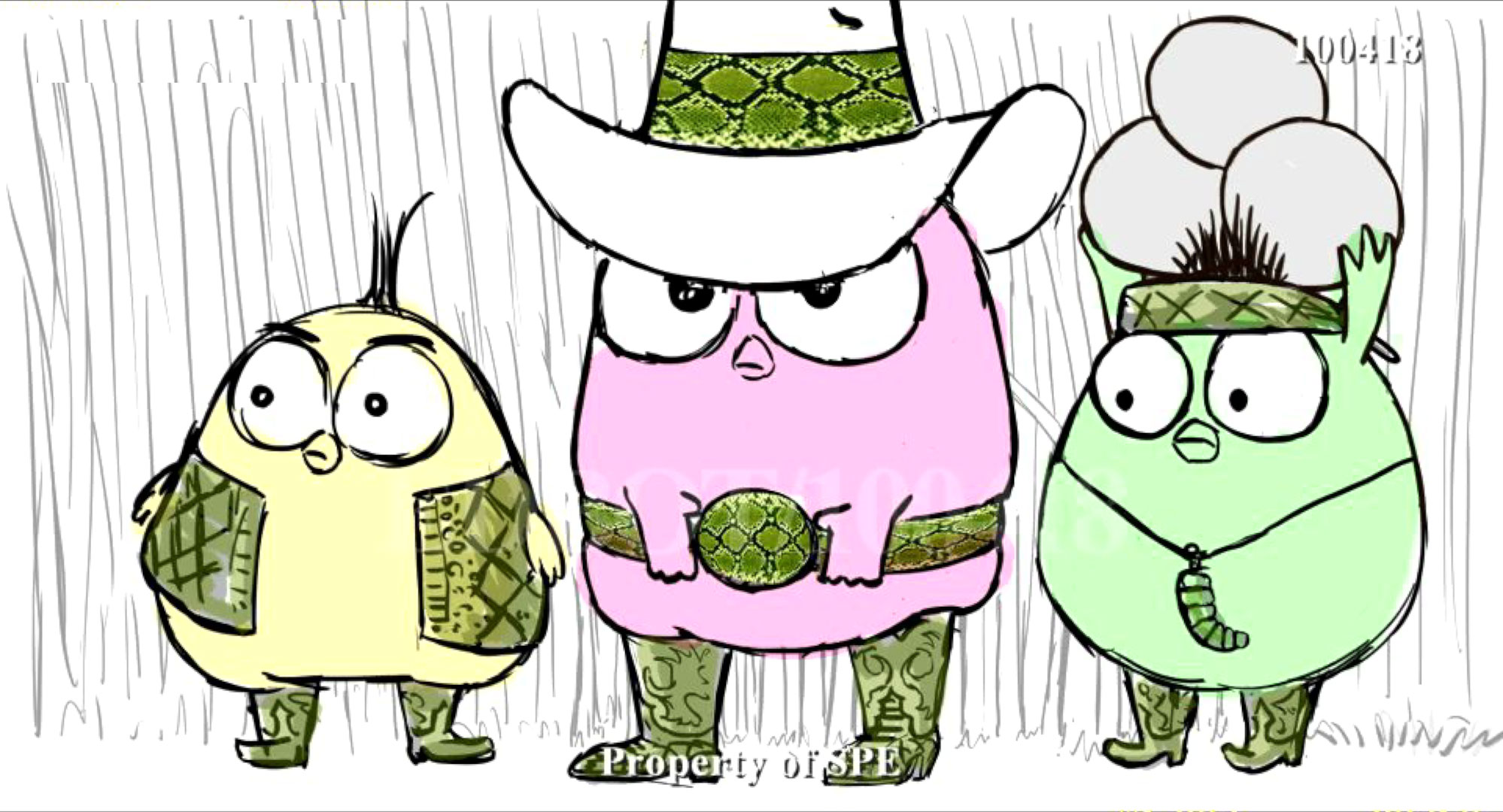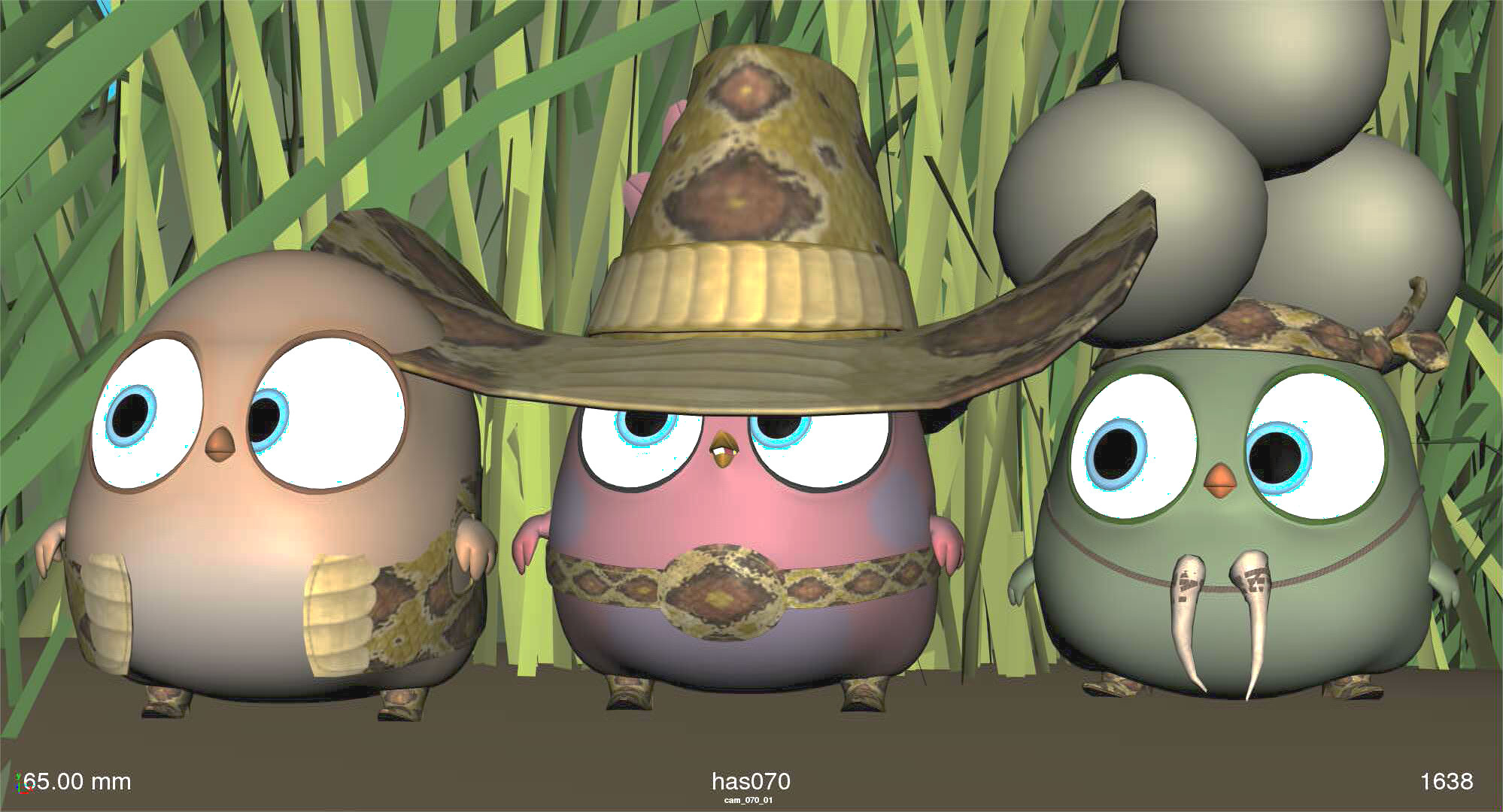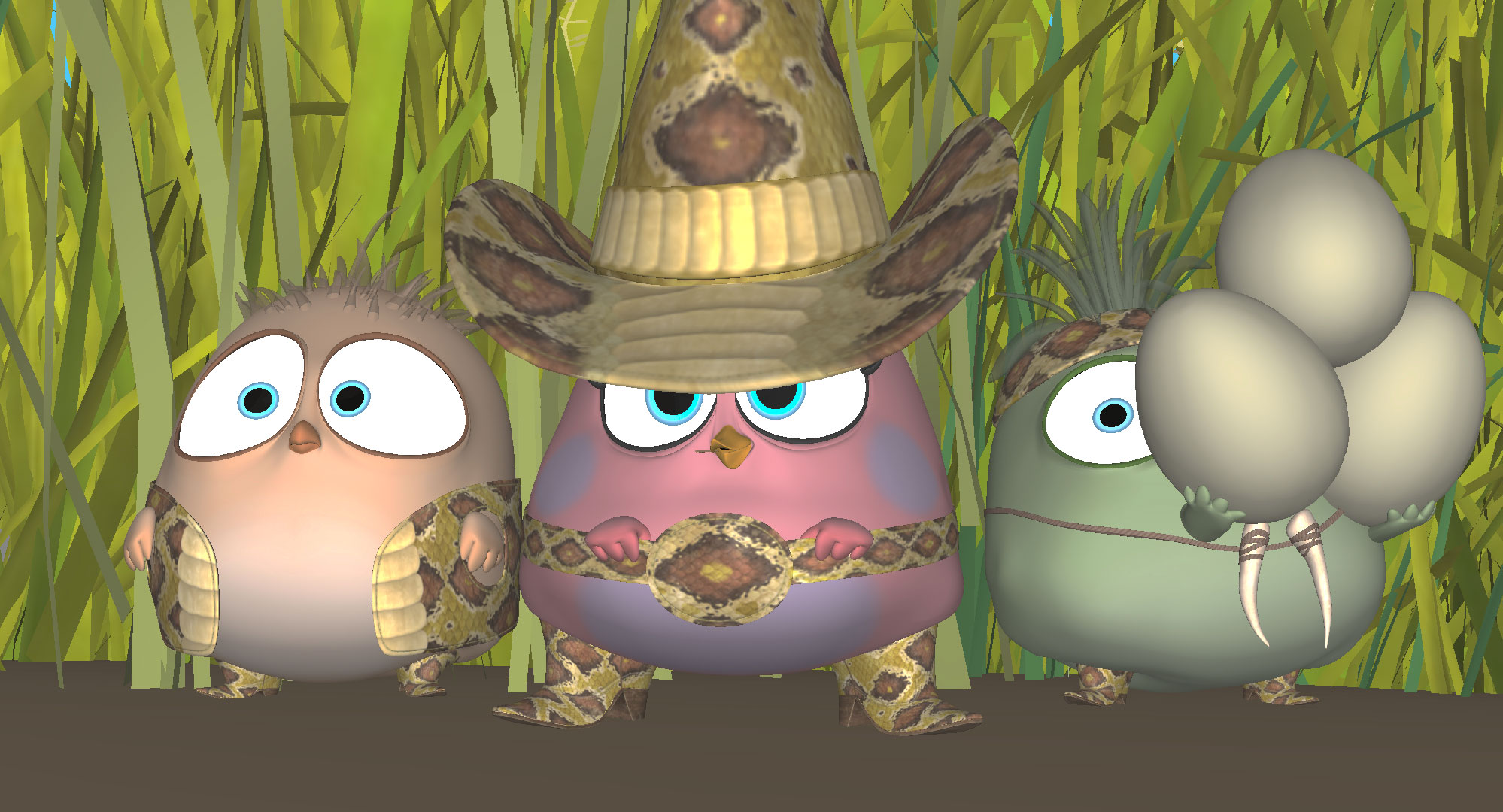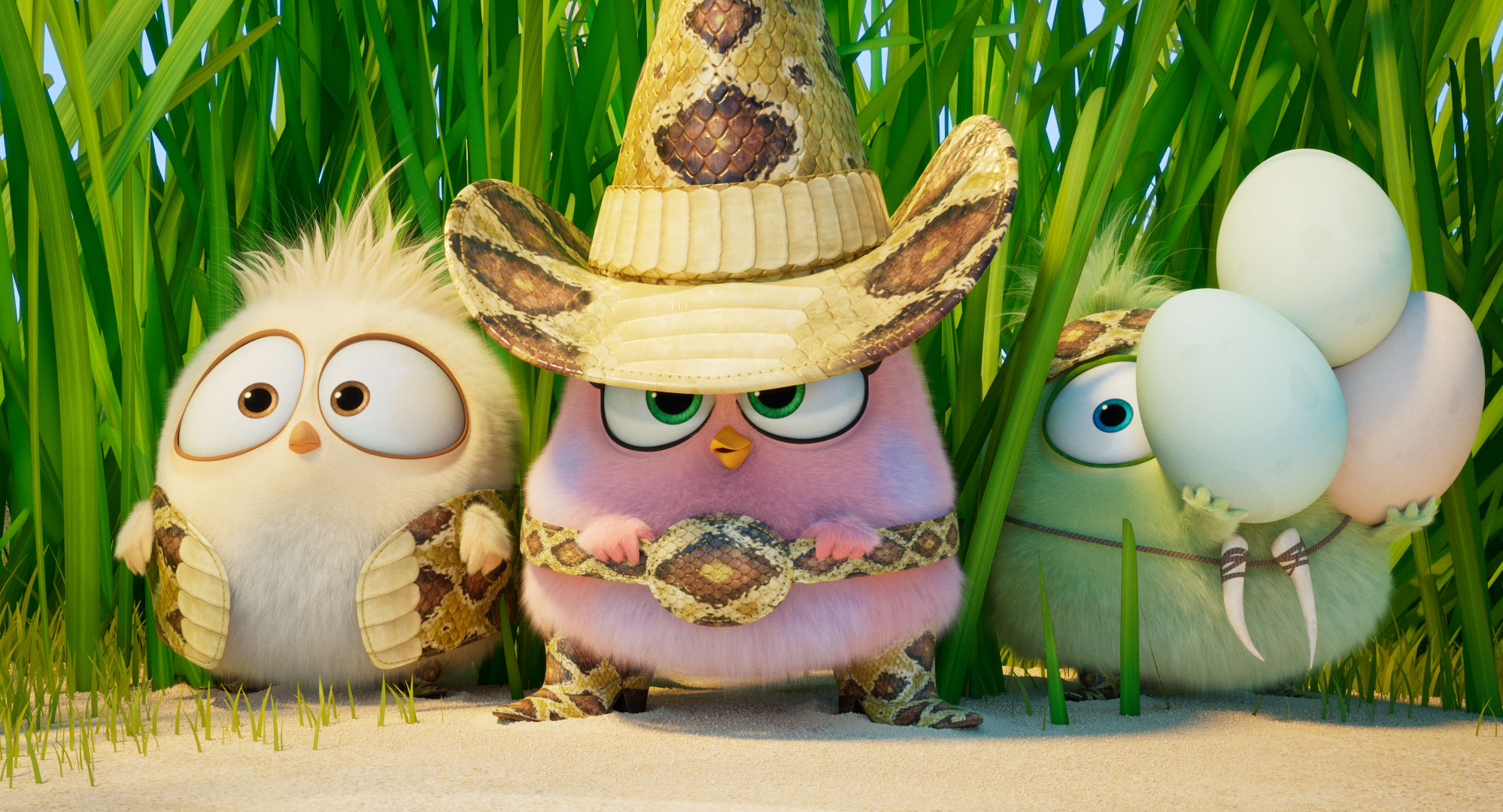 One of the Director's favorite FX shots was where Red is attempting to drown his sorrows by pouring melted butter into his mouth full of popcorn. In our initial FX sims the butter actually overflowed his mouth and filled up his eye sockets as well. It was super funny and the Director loved it, but unfortunately ended up being a little too over-the-top. We toned it back for the final version.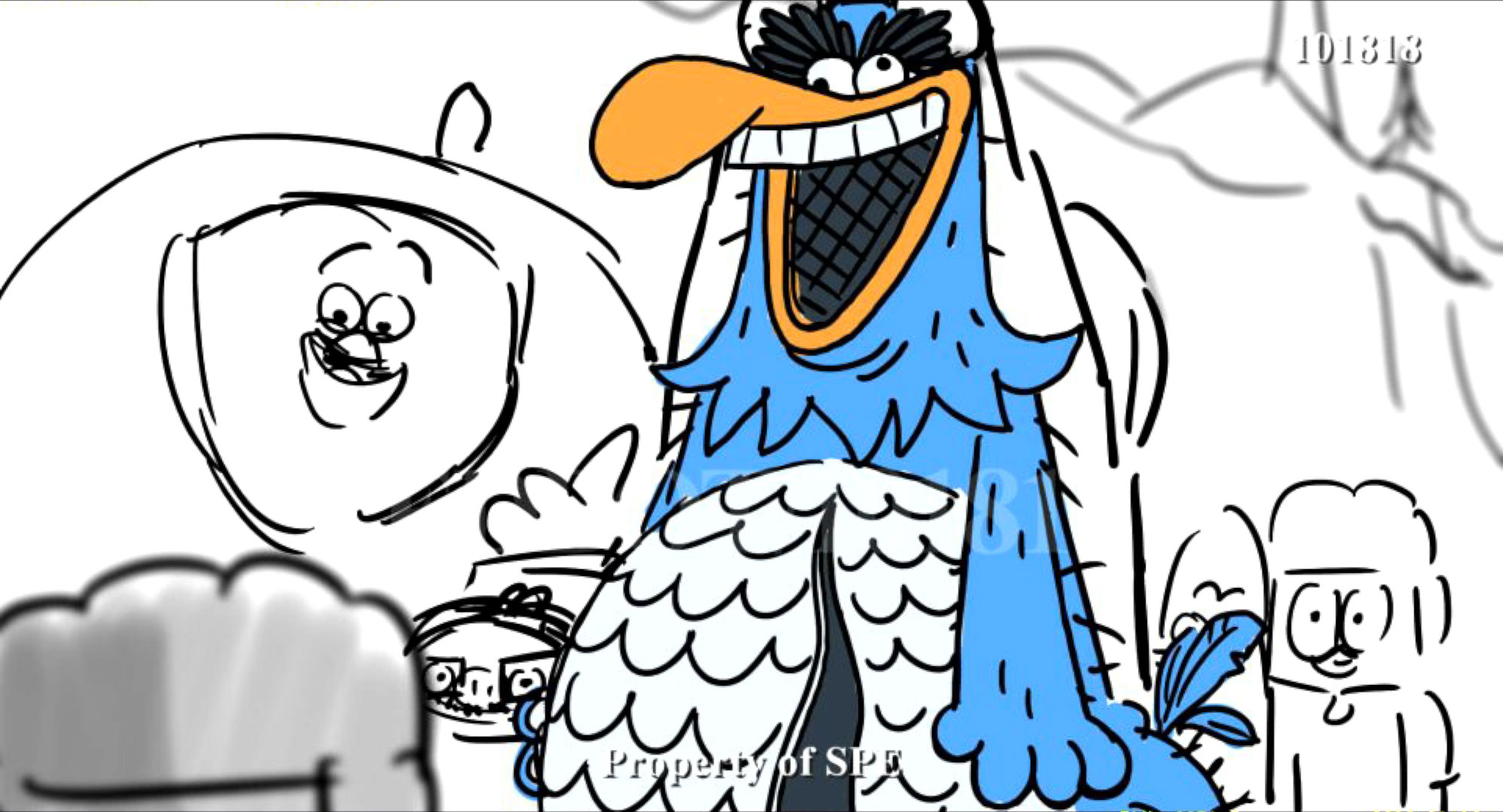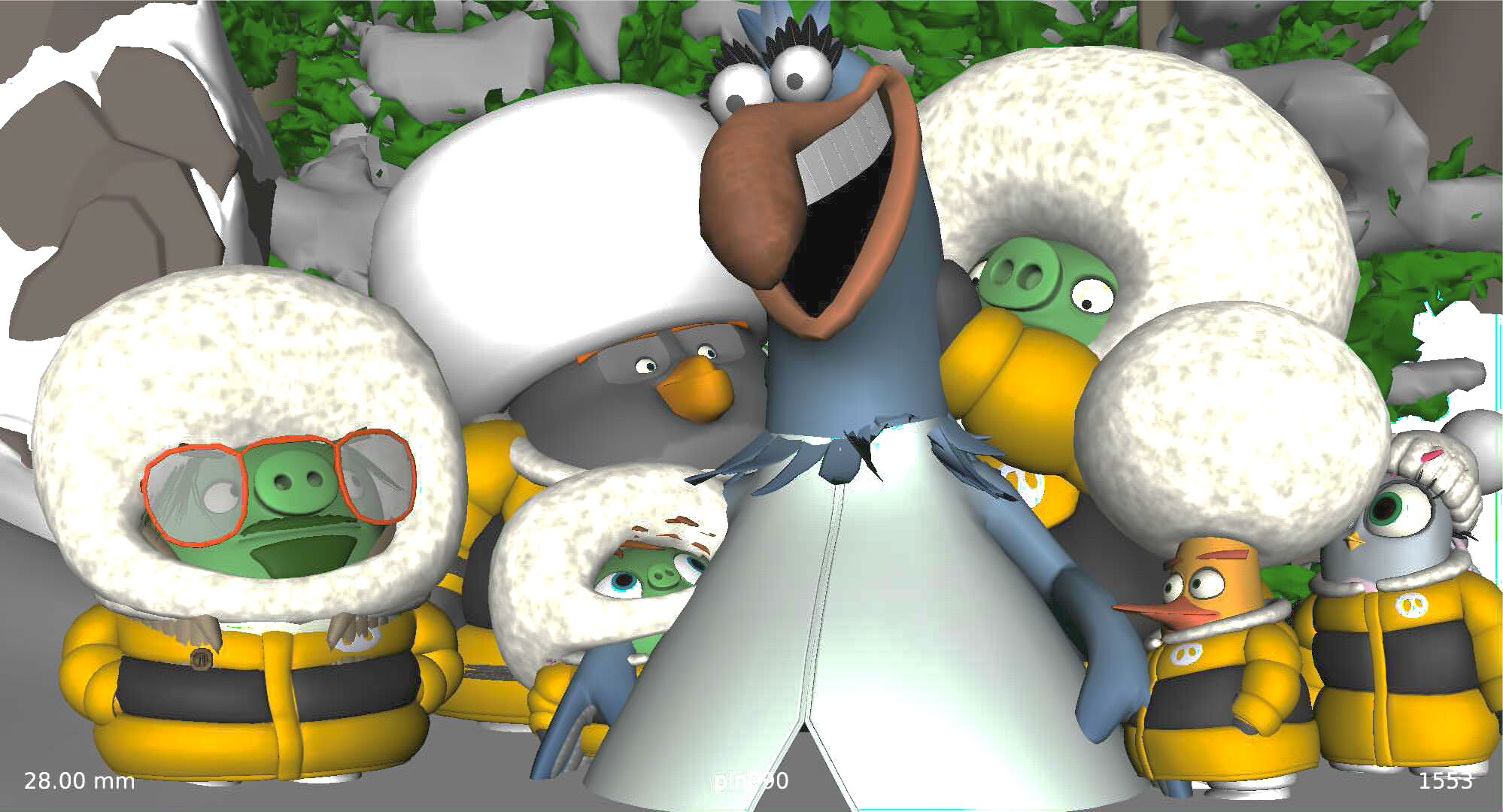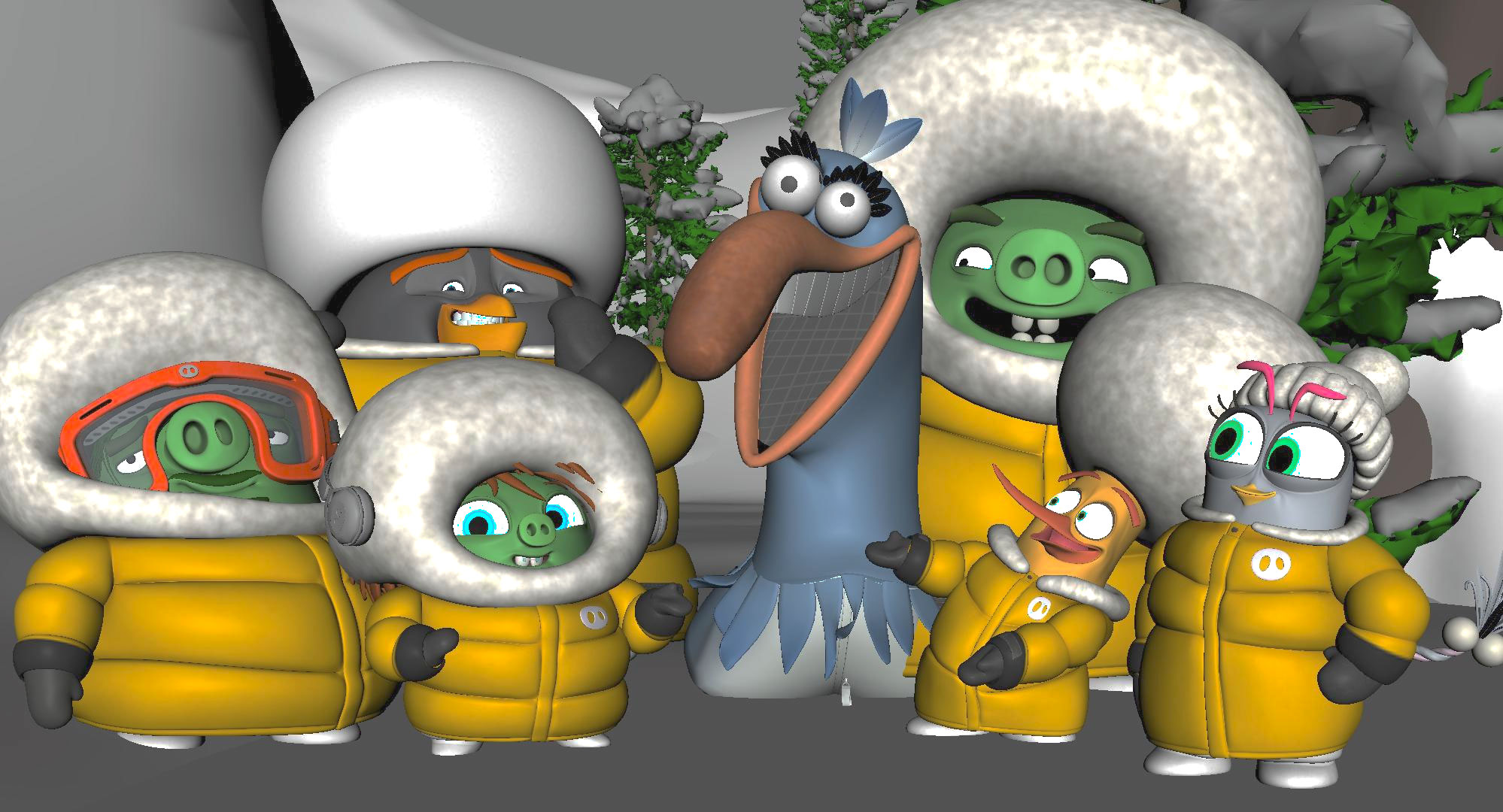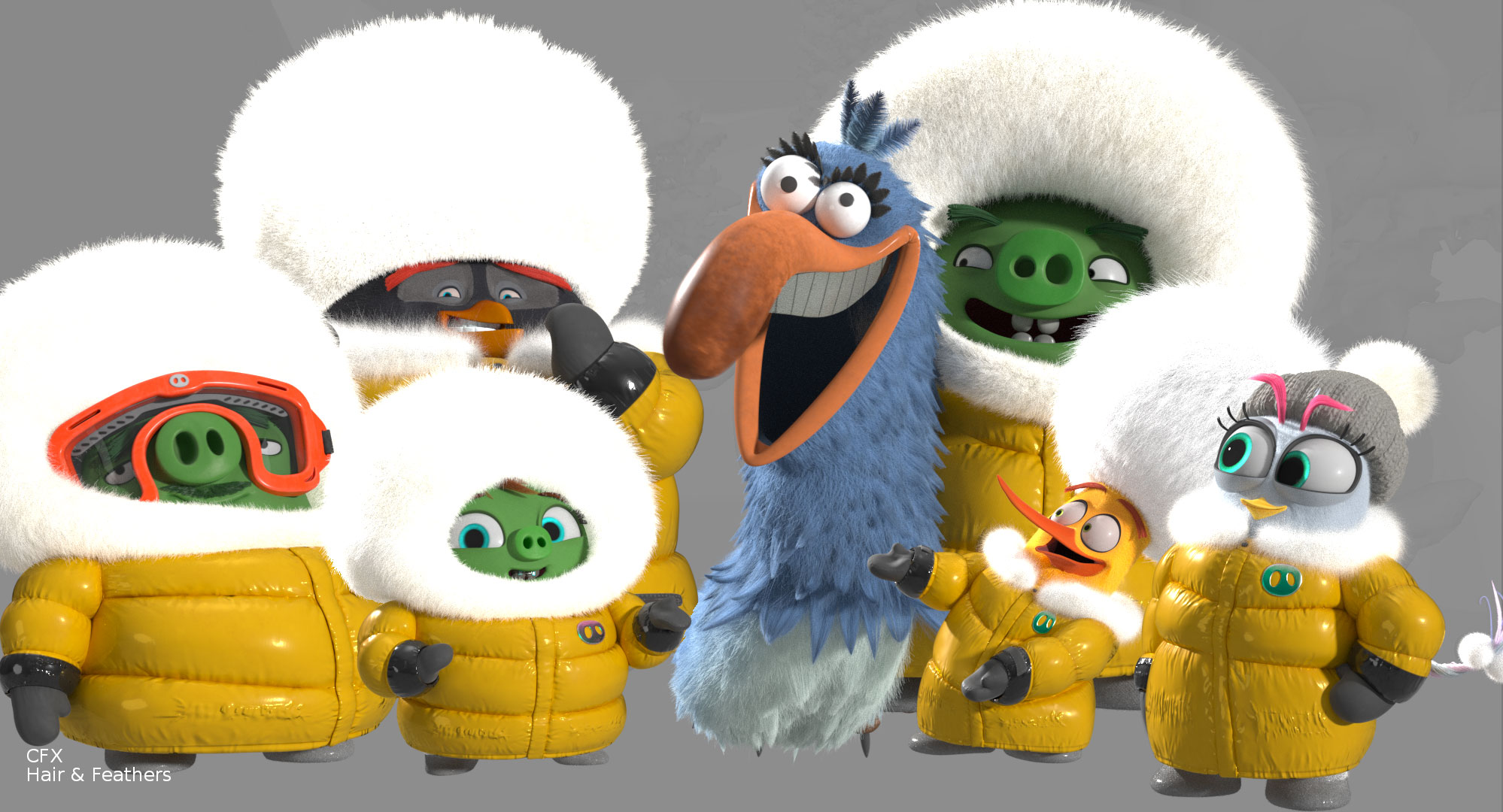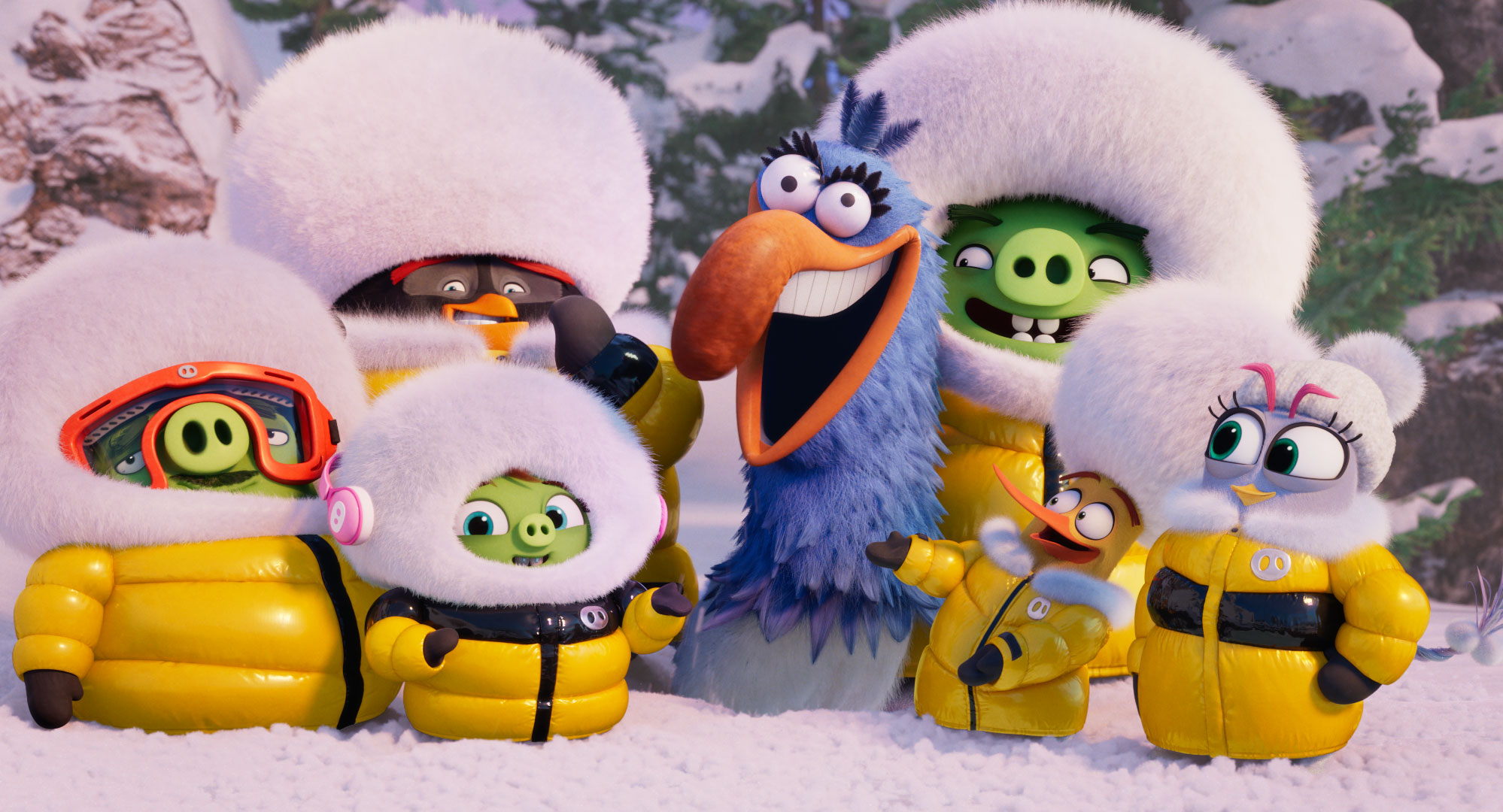 There were many sequences in the film located on beaches. Our FX team developed two systems to tackle these breaking waves: a "generic beach break" system for the wide shots, and a "hero beach break" system for the close-up shots that might include character interaction. The "generic beach break" system divided the beach into 26 sections, each with approximately 50 million particles in the fluid simulation. These 26 sections were then stitched back together into a single water surface. Splash and foam simulations were also blended together to complete the final look. The "hero beach break" used many of the same techniques, but the simulation space was optimized to the bare minimum coverage of the shot camera and also run at a much higher resolution.
Release Date: August 13, 2019